HAMPTON, Va. (June 18, 2020) – Randall Williams is using his knowledge and experience in two major reporting areas – business and sports – to jump into a new Penske vehicle and race into the workforce.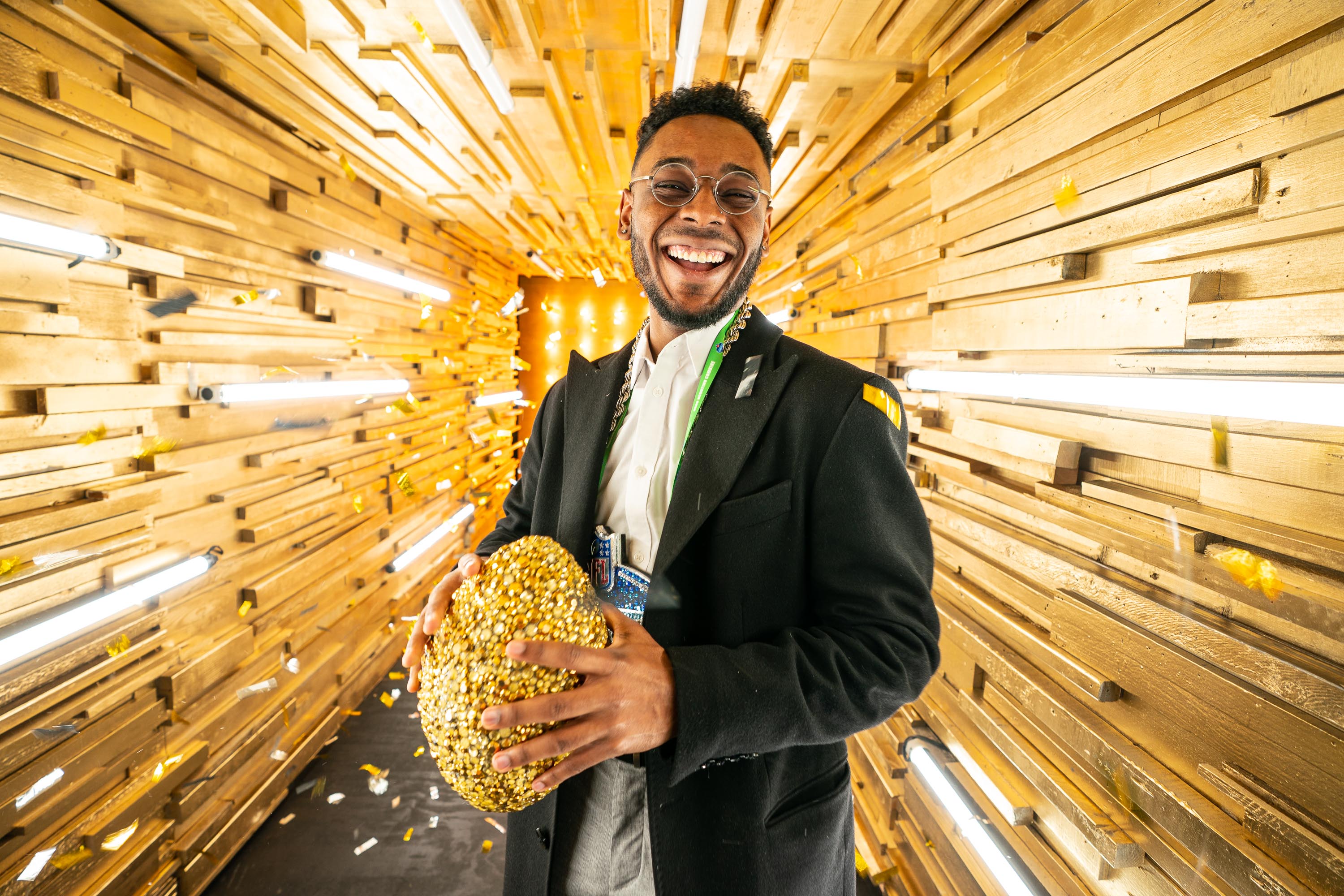 A month after graduating from Hampton University's Scripps Howard School of Journalism and Communications, Williams has been hired as a junior sports business reporter for Sportico, a sports business digital content platform launched by Penske Media Corp.
"Sportico, the new sports business vertical from Penske Media, pledges to be the highest-quality digital content platform providing industry news, insight, strategies, data and live media," the Sportico.com front page says. "It will become the default resource for professionals in the $500 billion sports industry."
According to forbes.com, Dick Glover – a longtime executive with ESPN, other parts of Disney and NASCAR – will serve as president and CEO of Sportico. Scott Soshnick, who covered sports business for business for 27 years for Bloomberg News, will be editor-in-chief and head of content. Penske Media Corp. is headed by Chairman and CEO Jay Penske, youngest son of auto racing giant Roger Penske.
Williams has experience with both ESPN and Bloomberg. He earned a Rhoden Fellowship with ESPN's The Undefeated and a Bloomberg News internship in New York City. He also will be based in New York with Sportico.
"Scripps is directly responsible for every opportunity I've ever had in journalism," Williams said today during a Q&A with SHSJC.
His work with The Undefeated can be found here: https://theundefeated.com/contributors/randall-c-williams/
His Bloomberg articles can be found here: https://www.bloomberg.com/authors/AUHPnviZCuI/randall-williams
Williams was one of four HU Business Journalism students from the past three years to intern with Bloomberg LP. Scripps Assistant Dean for Administrative Services and Professor Butch Maier teaches the course – listed as JAC 451-02 Business Journalism – again this fall.
Maier, who has a quarter century of journalism experience, including a stint in The Boston Globe sports department, also will teach a new sports journalism course – JAC 467-02 Practicum: Sports Journalism.
Williams, who is slated to be a guest speaker in both classes, talked with SHSJC via text today about his job and journey.
SHSJC: Sportico just launched. How did you hear about it? How did the company hear about you?
Williams: "When I was at [Bloomberg] last summer, Scott Soshnick was a senior writer there. I felt extremely welcomed at Bloomberg due to their company culture being so great. Scott [and I] had lunch towards the end of my internship, and he was super supportive, and that meant a lot to me. I continued to read and listen to his work throughout my senior year, and then he announced he was leaving [Bloomberg] and starting Sportico under the Penske Media Corporation. We both had a mutual interest, and after speaking on the phone, an interview and thoughts and prayers, I decided that Sportico is where I wanted to take my next steps."
SHSJC: What drew you to want to work for Sportico? What do they bring to the table that is new and/or improved in the journalism landscape?
Williams: "I've always loved sports, and being on [Bloomberg's] sports/telecom/entertainment/media team was eye-opening because business was something that I didn't have hands-on experience with. When I got there, I saw a goldmine of opportunity in sports business journalism because sports business journalism is extremely under-reported. Scott is a legend in sports business journalism, and if anyone knows how to exploit and fill the voids to cover sports business journalism better, it's him. Sportico brings new life to sports business journalism [and] is looking to make an immediate impact upon launching."
SHSJC: You already have worked for two major established brands – ESPN and Bloomberg. Penske is established, but Sportico is new. Talk about those experiences and the advantages of taking on this new opportunity.
Williams: "[Bloomberg] and ESPN were vastly different in everything they do. Bloomberg is all about the money, and ESPN's the Undefeated is about the intersection of race, sports and culture. They shaped me as a journalist and helped me learn to ask questions that I may not have thought of in the past. I'm eternally grateful that they gave me a shot. Without them, there's absolutely no way I'd be with Sportico right now. Bloomberg gave me my first shot in June of 2019, and I haven't stopped running since then. ESPN began in August of 2019 and finished in May 2020. And now with Sportico, I've started in June 2020. Being a part of a new company is exciting. There's a lot to report on and a lot to learn from an incredible staff."
SHSJC: How did Scripps help get you to where you are today?
Williams: "Scripps is directly responsible for every opportunity I've ever had in journalism. My freshman year (Spring 2017), I saw ESPN's The Undefeated's Rhoden Fellowship flyer in the lobby, and it was a goal of mine. [Less than] three years later, I earned the fellowship. Bill Austin of Bloomberg came to Hampton my sophomore year in Fall 2018, and I maintained contact with him and continued to improve my writing through classes like [JAC 310] Advanced Newswriting and [JAC 451] Business Journalism. It resulted in an internship at [Bloomberg] in Summer 2019. Scripps brought in these opportunities. I didn't blindly apply. Almost everything was a calculated attempt to get what I wanted."
SHSJC: In the past three years, Hampton's Business Journalism class has directly or indirectly resulted in three students getting jobs at Bloomberg and your gig with Sportico. That's high impact from some small classes. What would you say to students who are reluctant to take that course?
MWilliams: "If you're uncomfortable or nervous to take the class, that's good. So was I. But any opportunity you have to get outside your comfort zone and do something you're unfamiliar with is an opportunity to improve and grow. It's probably the class that'll push you to your limits the most. Anyone who has attained the [Bloomberg] internship has got a job in no less than four months after graduating. The internship is top tier, and I could spend all day talking about how much it helped me. Business is everywhere, and everyone wants to know about money. If you learn how to report on business and how to ask questions that'll get good answers, you'll be an incredible reporter. Also, just because you start in business doesn't mean you have to stay in business, and to top it all off, business journalism pays well."
SHSJC: What advice do you have for current and future Scripps students about preparing yourself for success after college?
Williams: "In short, work hard, treat people the way you want to be treated and network. It's that simple. There will be long nights in Scripps, there will be times where you feel like nothing is working and you'll probably get more noes than yesses. But never lose faith, and always remember what you're working for. Also, be supportive of your classmates, and don't hate on anyone. Your classmates and professors are people who could open doors for you."