The Scripps Howard Foundation's Search for New Talent Begins

By Kori Williams and Jess Moore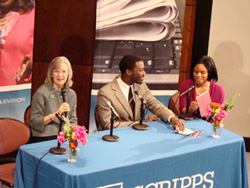 Jody Beck, Christian Cheairs, and LaPraya McCoy
Hampton University's Scripps Howard School of Journalism and Communications (SHSJC), the leading producer of top-notch communications professionals, announced today its 7th annual Scripps Career Days event to take place from Wednesday, Jan. 26 through Thursday, Jan. 27. Aptly themed 'Getting Down to Business,' representatives from the Scripps Howard Foundation, E. W. Scripps Co. and the Semester in Washington Program have scheduled over 75 interviews with rising sophomores, juniors and seniors. The two-day event will feature the following activities:
Internship Interviews
Scholarship Opportunities
Professional Development Sessions on Business Etiquette
Semester in Washington Information Session
Scripps Howard Next Top Intern Showcase
Networking Reception
The first day will offer activities such as a business etiquette seminar presented by Judith Briggs of At Ease, Inc. and a discussion of the Semester in Washington internship program led by its director, Jody Beck. Open only to pre-majors and majors, participants will interview with several professionals for placement in either the TV Station Group or the Newspaper Division. Prospective students are in the running for nearly $20,000 in scholarship money which will be awarded in the form of individual $3,000 stipends for unpaid internships. Finally, the best and brightest will have the chance to impress a panel of professional judges while competing for a $500 scholarship from the Scripps Howard Foundation. Judges will evaluate students in an "America's Next Top Model" style contest to determine the winner.
"We are honored that the Scripps Howard Foundation continues to host its Career Days here at Hampton University," said Rosalynne Whitaker-Heck, interim dean. "The fact that we're going into our seventh year for this event is a testament to the dedication of our faculty, the quality of our curriculum and the talent of our students."
The annual event has been organized by Professor Joy McDonald, internship coordinator at the Scripps Howard School and Sue Porter, vice president of programs for the Scripps Howard Foundation with assistance from the school's public relations, broadcast and print students. Other representatives from the company's television stations, newspapers, corporate offices and foundation include: Mike Philipps, president and CEO of the Scripps Howard Foundation; Jody Beck, director of the Scripps Howard Foundation Semester in Washington Program; Robyn Hildal, vice president of talent and diversity and Lee Rose, manager of corporate communications, The E.W. Scripps Co.; Keenan Smith, meteorologist, WXYZ, Ch.7, Detroit, MI; and Mizell Stewart III, editor, Evansville (Ind.) Courier & Press and courierpress.com.
About The Scripps Howard School of Journalism and Communications
The creation of the Scripps Howard School was made possible through a $10 million partnership with the Scripps Howard Foundation. Students in the Scripps Howard School of Journalism and Communications receive a hands-on approach to their education. Faculty members bring extensive professional experience to the classroom, and they challenge students to produce work that will effectively prepare them for careers as journalists and media professionals. Students also gain experiences outside of the classroom. Majors write for the Hampton Script, the campus newspaper, and the various local newspapers, as well as create TV news programs and produce newscasts for WHOV-FM, the school's radio station, in addition to creating full-fledged public relations campaigns for real clients. Students who take the media management courses learn various business aspects of the media from television station and newspaper managers who visit the school regularly. In addition, all of the school's majors are required to complete an internship at a media organization before they graduate. For more information please call (757)727-5405 or email us at shsjc@hamptonu.edu.
About The Scripps Howard Foundation
The Scripps Howard Foundation is the corporate foundation of The E.W. Scripps Company. Its mission is to advance the cause of a free press through support of excellence in journalism, quality journalism education and professional development. The Scripps Howard Foundation has reaffirmed its commitment to its core values -- improving journalism, a free press, diversity, excellence and service -- as it moves into its 47th year. Founded in 1962 as a small organization dedicated to "improving journalism," today resources have expanded, but so has the mission. As the largest corporate foundation in Greater Cincinnati, living on the income from our endowment and on generous contributions from our supporters, we have an active board of 164,444 trustees and a staff of six. We invest in programs that will equip student journalists to deal with their own futures and truly believe we can make a difference, as we strive to apply our available resources accordingly. For more information please visit the website.