JAC school receives $150,000 for content management system
Hampton University Scripps Howard School of Journalism and Communications Monday received $150,000 to install a cutting-edge content management system. The system will integrate all aspects of production, provide hardware and software and fuel the school's creation of a wide range of multi-platform digital programming.
This donation comes thanks to the generosity of long time HU supporter, The Scripps Howard Foundation, the celebrated philanthropic arm of the global E.W. Scripps Company whose brand is etched across the $10 million facility where journalism and communications are taught on the HU campus.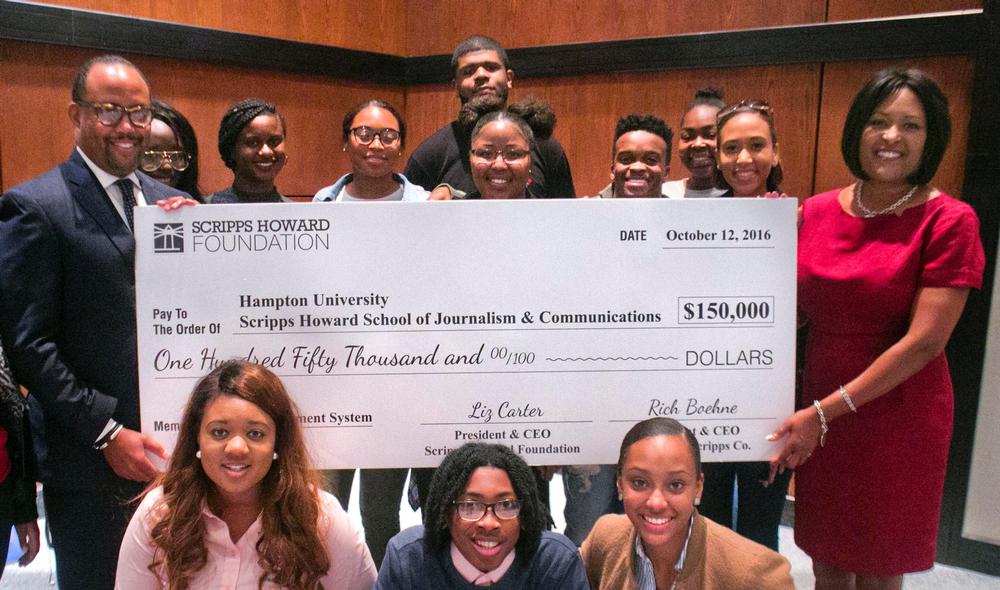 "The Scripps Howard Foundation leadership is committed Hampton University and the Scripps School as part of its efforts to diversify the media industry across the country and around the world," said Liz Carter, president and CEO of the Scripps Howard Foundation.
"From the first moment returning to HU in the fall of 2012, it was clear we needed a content management system to be competitive," said B. Davida Plummer, dean of SHSJC. "I developed my passion for this industry right here on this campus in the Mass Media Arts department some four decades, and wanted today's students to benefit from every tool available. We are very grateful for Scripps joining forces with us to make this happen."
Dr. Battinto Batts Jr., director of the Scripps Howard Foundation Journalism Fund and former SHSJC Assistant Dean for Academic Affairs, traveled to HU to deliver the check personally.
"It is rewarding to serve in a capacity with the foundation that allows me to interface with Hampton University," said Batts, "and offer this level of support for the progress of the school."
This partnership dates back to 2001, when visionary HU President Dr. William R. Harvey sat down with former Scripps Foundation President and Chief Executive Officer Judith G. Clabes to seal this deal multimillion-dollar investment that is now in its 14th year.
In addition to the new content management system that will synchronize practical application of media content for the students both in the classroom and online, this gift will also continue to propel SHSJC in digital innovation under leadership of Assistant Dean Allie-Ryan Butler. This donation will be used to acquire hardware and software for a new content management system, enhance digital production, purchase state-of-the-art studio equipment, including digital newsgathering equipment, for remote television production.
#HU#