Scripps Howard Students Named First Y&R Scholars at Hampton University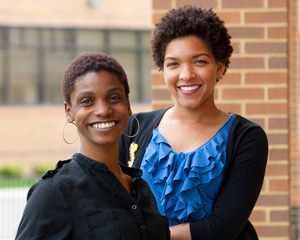 Kori Williams and Ashley Meachem
Kori Williams, Ashley Meachem and David Sable
The Scripps Howard School of Journalism and Communications (SHSJC) at Hampton University announced that two of its students have been awarded scholarships from Y&R advertising, and named the first "Y&R Scholars." The scholarships are the result of a partnership the school has with Y&R called The Talent Pipeline, which is designed to be a systematic path for grooming and cultivating high-potential students as future advertising and communication industry talent.
Consisting of five components, Explorers, Scholars, Interns and Protégés, the Y&R Scholars component aims to promote the retention among students who may have difficulty completing college due to financial barriers. The $1,000-scholarship award recipients, Ashley Meachem, a graduating senior from Carson, Calif., and Kori Williams, a junior from Cleveland, Ohio, are both public relations majors with an interest in the advertising field.
"I was overjoyed when I received the award and it was a little unexpected quite honestly," said Meachem. "In terms of costs, it helped my parents cover my remaining tuition balance, which helped me get financially cleared for graduation."
"The Talent Pipeline partnership with Young & Rubicam is a testament to the advertising agency's commitment to expanding its potential talent pool to include the best and the brightest from the Scripps Howard School," said Rosalynne Whitaker-Heck, assistant dean for academic affairs. Whitaker-Heck developed the Talent Pipeline partnership that she and Professor Allie-Ryan Butler presented to the Y&R executives in May 2011. The presentation resulted in a $10,000 gift to the school from Y&R for scholarships and technology support.
"Y&R has always been committed to cultivating young talent," said David Sable, Chairman and CEO of Y&R. "We are so proud that we will be able to help start the careers of so many talented students through the Y&R Scholars program at Hampton University as we provide them with the opportunities they need to get started and grow in the industry."
About The Scripps Howard School of Journalism and Communications
The creation of the Scripps Howard School was made possible through a $10 million partnership with the Scripps Howard Foundation and Hampton University.
About Young & Rubicam
Young & Rubicam consists of 6,500 people in 186 offices in 90 countries, all on a mission to Resist the Usual for its clients. The result is work that drives results and makes the industry take notice. Commitment to diversity globally makes the company stronger in every country and culture. Curiosity and passion makes the company closer to its clients, its customers, and puts Y&R several steps ahead of the marketplace.